2021 in Review
Another pandemic year is over. Sadly SARS-CoV-2 still greatly affects our lives, even though we all are learning how to live with it. This year I've traveled aboard for the first time since two years, and in many other areas I don't feel any impact of the virus. But sometimes, I can only throw up hands in despair.
Anyway, I'd like to save some memories from this year. Here they are.
Work
At work my team and I did a great job on rewriting the Toolbox App to Compose for Desktop framework. Not only it allowed us to deliver new features easier, but also we helped the team behind the framework to reach their release towards the end of the year by providing feedback, bug reports and feature requests.
My Makefile plugin has been bundled in CLion and GoLand in March 2021 and is now supported by CLion team. I'm glad it is in good hands now and will evolve further.
I'm also back to public speaking. I took a pause in 2019 to evaluate all feedback and experience I collected in 2018. The pause took longer than expected for many reasons, with Covid obviously one of them.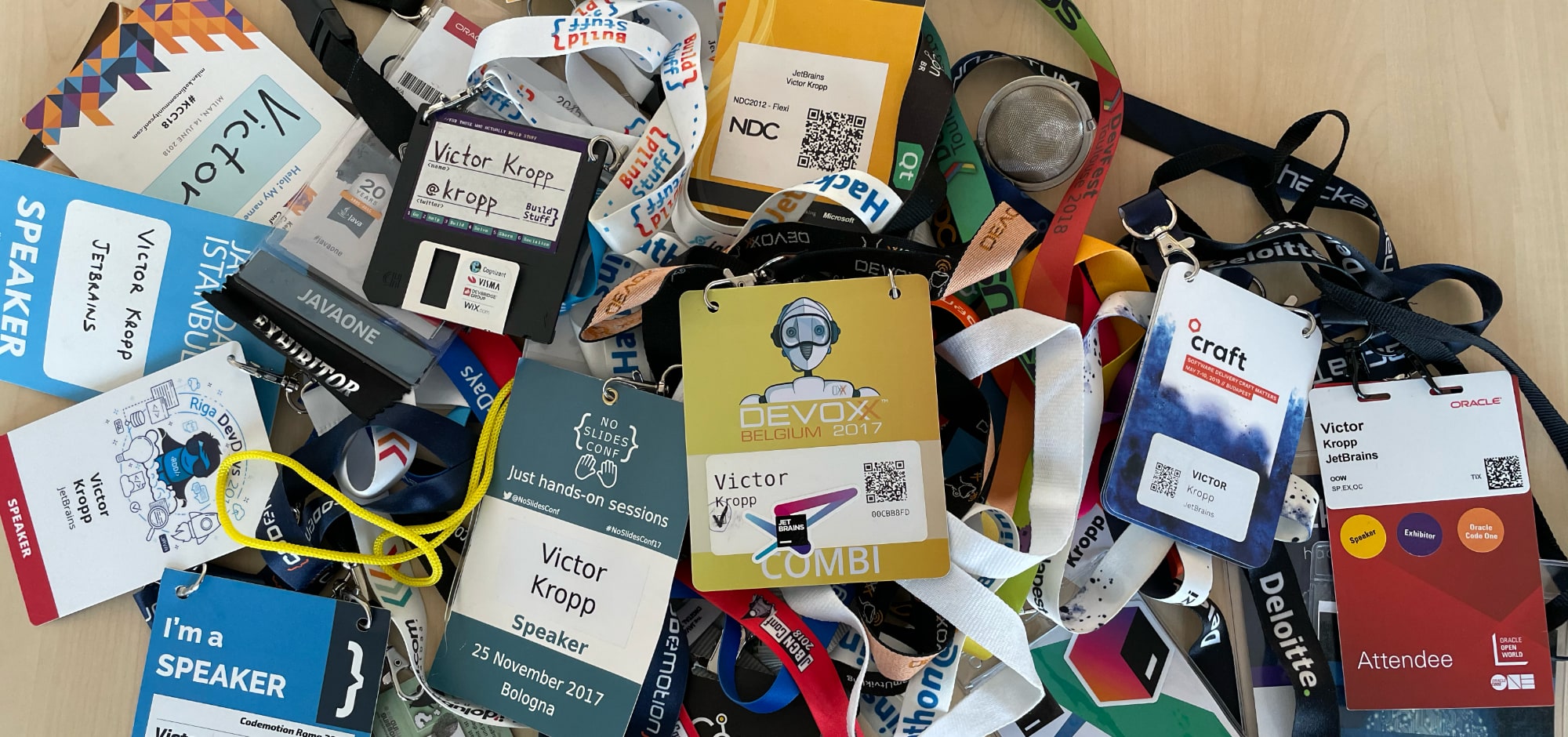 I talked about our experience of migrating the Toolbox App from C++ and HTML/CSS/JS to pure Kotlin first at internal online company event, then we discussed it in the Talking Kotlin podcast and I was also interviewed by Sebastian Aigner for the Kotlin blog on the same topic. And finally in December I talked a bit about how the Toolbox App evolved from Hackathon project to an app with one million monthly active users at JetBrains Customer Appreciation Day Korea (the talk is in English with Korean subtitles).
Oh man, how much I missed this! Looking forward to in-person events next year.
Sport (sort of)
Since May, when I returned to the office, I cycled there almost every workday. My total bike commute this year exceeds 2000 km, which is impressive, I've never cycled my regular (trekking) bike so long. Looking forward to beat this record next year and add more running and skiing days on top of that.

Hobbies
Podcast
With my friend and colleague Artem we've started a podcast about beer and Germany (in Russian). From March till November we've released 17 episodes and enjoyed it a lot. We took a break at the end of the year due to personal reasons, but we plan to start season 2 in 2022.
Keyboards
I also got into mechanical keyboards this year. After long planning of a custom ortho-linear split keyboard… I dropped the idea for a while, because of its cost, and decided to go for cheaper options first. So I know own Keychron K3 (bluetooth low-profile keyboard) and C1. K3 is compact and it came with red switches, which I later replaced with brown ones, my preferred ones at the moment. C1 is a TKL non-hot swap with normal profile keycaps. It may sound boring, but it is very cheap and is now my main driver. After using it for a few months I now better realize, what I want. And I now have some ambitious plans for the next year.
PlayStation 5
I didn't pre-order PS5 in 2020, because I was sure I could grab one anytime. I was so very wrong. Thanks to the pandemic, global chip shortage and scalpers, it is still impossible to just walk-in into the store and buy it. It took me 3 months of monitoring a number of local and online retailers and tens of unsuccessful attempts, before I could finally order one from a local electronic goods store. I was so excited when I picked it up from the store!
There are no real next-gen games yet, but simply playing good old PS4 ones is much more pleasant experience now. They load significantly faster and console stays silent at all times. My PS4 Pro was roaring like a turbo jet when I played The Last of Us Part II last year.

This year I platinumed 4 games:
Horizon Zero Dawn – can't wait for the sequel scheduled for release in February;
Astro's Playroom – easy and nice introduction to PS5 hardware;
A Plague Tale: Innocence – sequel's trailer looks promising too;
…and the last but not least The Last of Us Part II, I've been waiting for PS5 to replay it.
My most awaited titles from 2022 are Horizon Forbidden West and Gran Turismo 7. I'm also waiting for next-gen updates for Cyberpunk 2077 and Witcher 3 to finally play them. And there are Spiderman, Spiderman: Miles Morales, and Ghost of Tsushima already in my library. It's going to be an entertaining year!
Movies & series
Hooray, I was able to watch some movies in the cinema this year. The first one was Dune, which was impressive. It was definitely worth it. And during Christmas vacation I also got a change to watch "Spiderman: No way home". I started playing Spiderman on PlayStation at that time, and it has complemented the experience quite well.
Unfortunately, I can't remember any decent series this year, except maybe "Mare of Easttown".
That's it
And I again looking forward to the next year, hoping it will be better than this one.
Subscribe to all blog posts via RSS and follow me @kropp on Twitter.